StarFiber MicroFiber High and Low DustEliminator for high and low dusting. <![if pub11]>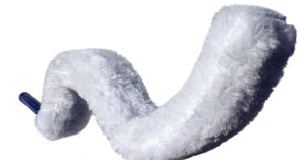 <![if pub11]>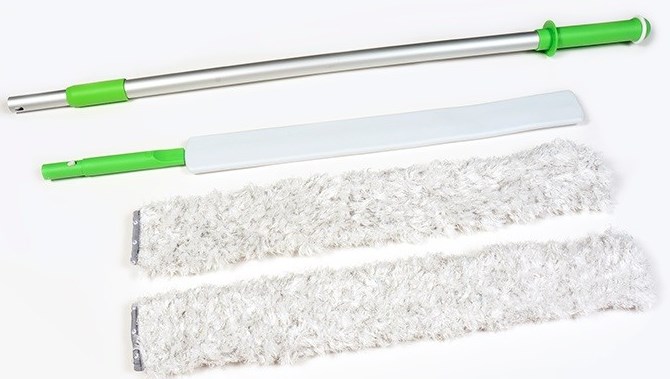 Click on pic to buy
Starfiber Triangle tool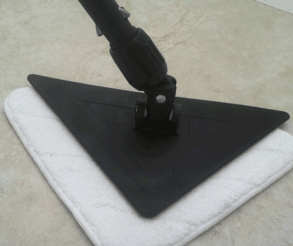 For hard to reach areas! Great for car windows!


Click on pic to buy
starfiber kitchen scrubbies
starfiber scrubbies as seen at many LOCAL home and garden shows around the country
THE ONE AND ONLY!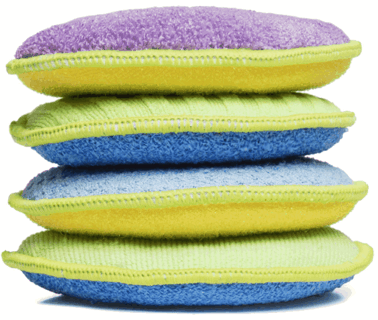 Click on pic to buy
Our favorite buddy in the kitchen, bathroom and everywhere else! Speeds through tough chores quickly. 4 Pack of assorted scrubbies - microfiber sponges.
Microfiber on one side, scurbber on the other - microfiber side can be used for wiping counter tops, stove tops, windows, mirrors, any hard surface Scrubber side works great with pots, pans, toilets, and sinks. Buy one or 4 along with the cloths above!
Bona 15 in Spray Microfiber Cleaning Mop
A premium, finger tip operated, spray mop combo, includes StarFiber Cleaning mop and Bona Hardwood refill cartridge all in one! Quick, easy to use, and leaves no dulling residue. This one for you who don't want to use plain water on your hardwood floors!


Click on pic to buy
However, if desired, you can use Bona chemical cleaners (that do not contain bleach) in conjunction with the StarFiber mops and Cloths without damaging the StarFiber material. Some people add vinegar to the water.
STARFIBER THIN, LINT FREE GLASS CLOTH CLEANS LIKE NO ONE ELSE!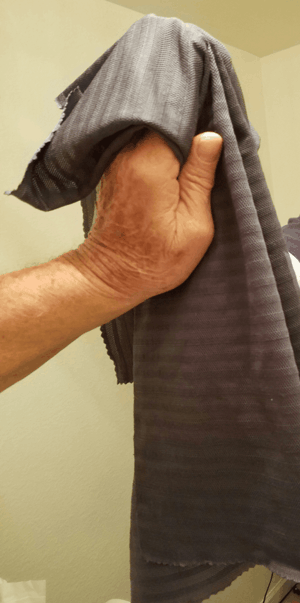 Click on pic to buy

Watch the video showing the Swedish owned and managed Concept Manufacturing plant in China that have made quality microfiber cleaning products since year 2000.

DON'T USE DISPOSABLE MOPS LIKE SWIFFER

Pads are thrown away after one use. One disposable cloth can only clean about 60-100 sq. feet efficiently. If you clean more you just spread dirt around and nobody wants to do that! They don't absorb as much liquid as a microfiber cloth! They are not economical and they don't really clean!

StarFiber mop with Starfiber Chenille Utility pad only needs water to deep clean or dust all hard surface flooring in your home. Stop spending money on disposables like Swiffer and expensive cleaning chemicals The StarFiber cleaning system only needs water to clean!

If you are not familiar with what microfiber can do for your cleaning then take a look at the video below? The video was made by Peter Mendham in 2008 but is still valid today describing and showing how well microfiber works and can make your cleaning easier today and tomorrow! Cleaning with water is not only cheaper, safer, better for the environment and better for your health but will also save you money! The video shows the principal of how microfiber cleans using only water. Products and offers mentioned might no longer be available but the cleaning result is!

STARFIBER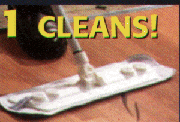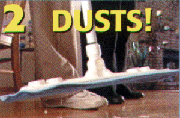 CLEANS LIKE NO ONE ELSE!
MicroFiber cleans without cleaning chemicals. So what is MicroFiber?

Microfiber consists of very fine threads of polyester and polyamide (nylon) that combine to form a single thread. Microfibers are so thin (100 times thinner than a single strand of human hair) that when they are woven together they create a surface area 40 times more than that of a regular fiber thus creating an expanded surface area with dramatically enhanced absorbing power due to the capillary action of the fine threads. Microfiber is traditionally defined as a fiber with a denier of less than one. Denier is a measure of thinness of fiber and is the weight in grams of a continuous fiber of 9,000 meters.

As each microfiber strand may be smaller than the bacteria it is attracting, it is able to penetrate microscopic particles of dirt and grease on a surface. Split microfiber possesses numerous wedges instead of the rounded surfaces on ordinary cloth, sweeping underneath the particles and trapping them inside. In addition, the rounded fibers on most cloths only push the dirt around, whereas the wedge-shaped microfibers grab the particles of dirt and pull the dirt into its dense internal structure. Furthermore, chemicals only become necessary as a disinfectant, as the bonding agent is no longer necessary to keep the dirt on the fiber.

Microfiber has two polymers. Polyester is lyophilic, or has an affinity to oil, so that oil and grease adhere directly to the fibers. Polyamide is hydrophilic, which means it has an affinity to water. As a result, any type of dirt is very quickly and completed removed with microfiber, leaving a sparkling clean, streak-free surface. Microfiber cleans without streaking, smearing, scratching or leaving lint. Microfiber is safe to use on all delicate surfaces. It will clean without scratching or harming the surface in any way.

Ordinary cleaning towels move or push dirt and dust from one place to another - microfiber actually lifts or scoops the dirt and stores the dirt particles in the towel, until it is washed. Microfiber can absorb up to seven times its weight in fluids. Microfiber cloths are also extremely durable. They can be washed up to 1000 times and still maintain their effectiveness. This makes it an extremely cost effective product. Machine wash hot water using your regular cleaner like Tide etc or hand-wash microfiber with mild soapy water.
Microfiber towels from different sources can vary greatly in quality. It is unfortunate that people sometimes purchase a high performance cleaning product on the basis of price alone. What they sometimes get is a product that does not perform as expected. Typically this can be pinpointed to two reasons:

1. The grade of yarn used in the beginning of the process is B, C, or even D grade.
2. The factory may utilize a flawed process when dying/splitting the yarn.
StarFiber products are manufactured by Concept manufacturing in Qingdao, China and is Swedish owned and managed and meet or exceed the highest set standards in the industry!
We also sell the famous
Cleans Any Surface In 1/2 The Time Using Only Water!
Disclaimer: Prices and products shown on any or our websites are subject to change w/o prior notice. Mix and match or substitute of colors and or pads could occur but will not generally effect the expected cleaning performance.
SwedeClean A Division Of Scandinavia Service System, Inc.
Thanks a lot for visiting our page!