starfiber starmoP dirt and grime fighter pads - the best in the industry
1. We are constantly brewing up new fibers to combat floor cleaning. The new 17" microgliss wet pad cleans with minimal resistance tension, leaving your floors feeling fresh and clean..also great to clean patio and other large windows with. StarFiber pads clean surfaces using only water!
2. All floor cleaning starts with collecting the larger particles on the floor; pet hair, loose dirt, kitchen crumbs, etc. The StarMop 17in SuperDust Pad should be used dry for dusting. Super-charged dusting to attract dust, dust bunnies, pet hairs, etc. Rub the dust pad on any surface (floors, carpets, etc.) for that extra charge. DO NOT WET THE DUST PAD.
3.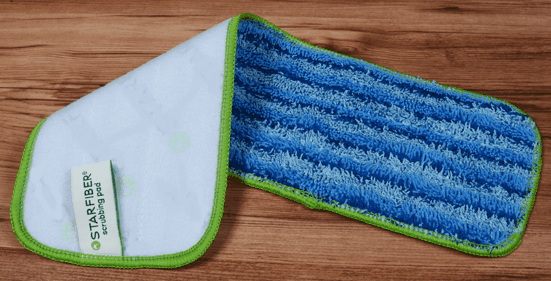 4.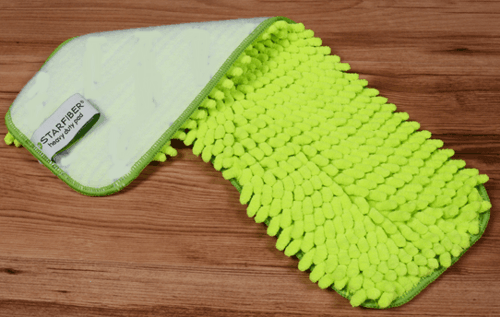 3. Can't get that rubber sole marking out of your wood floors? How about that leftover grease and spill from yesterday's backyard BBQ? You got problems? We have the answers! Try our 17" scrub pad - with professional grade scrubbing bristles, these nylon filaments will remove any muck that once latched onto your floors Gentle enough for your floors - tough enough to get those markings out
4. StarFiber 17 in Heavy Duty Utility Chenille Floor pad for damp or wet cleaning of any type of floor. Popular for tile floors as the "fingers" also assist in cleaning the grout lines! Has a soft backing for easier wringing out.

Click on pic to buy